According to Transparency Market Research's latest report on the global cryptococcosis market for the historical period 2017–2018 and forecast period 2019–2027, rise in reported cases of cryptococcosis, surge in number of surgical procedures; overuse of antibiotics, and introduction of new therapies are projected to drive the global cryptococcosis market
View Report :   https://www.transparencymarketresearch.com/cryptococcosis-market.html
According to the report, the global cryptococcosis market was valued at US$ 4.7 Bn in 2018 and is anticipated to expand at a CAGR of 4.3% from 2019 to 2027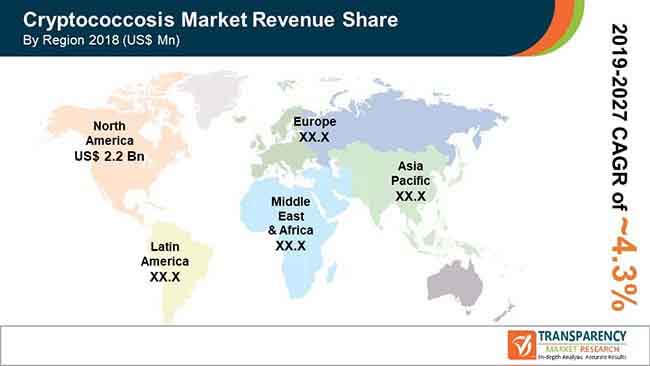 Increase in Reported Cases of Cryptococcosis: A Key Driver
HIV positive patients are found to be more prevalent for fungal infection. Around 220,000 cases of cryptococcal meningitis are evident to occur among people with HIV/AIDS worldwide each year, resulting in nearly 181,000 deaths. Most cryptococcal meningitis cases occur in sub-Saharan Africa.
According to the Centers for Disease Control and Prevention (CDC) of the U.S., the overall incidence of cryptococcosis was 0.4 to 1.3 cases per 100,000 population and annual incidence among persons with AIDS was between 2 and 7 cases per 1,000; the case-fatality ratio was approximately 12%.
Prevalence of cryptococosis lied majorly in Sub-Saharan countries. However, in recent years, many cases of HIV related cryptococcosis occurred in developed countries such as Australia, U.S. and Germany. The advanced screening processes available in these nations also improve the rate of diagnosis, thereby driving the Cryptococcosis drugs industry. Increased HIV related cryptococcosis infection along with rising initiatives by government and non-government organizations for awareness of available treatment is the major factor that drives the growth of cryptococcosis market.
Get Full PDF Sample Copy of Report: (Including Full TOC, List of Tables & Figures, Chart) :  https://www.transparencymarketresearch.com/sample/sample.php?flag=B&rep_id=14984
Improved access to diagnostic facilities to Augment Global Market
Accurate diagnosis of cryptococcosis infection is challenging because of lack of technologies to distinguish C. neoformans and C. gattii infections
Currently available diagnostic technologies require use of examination of DNA or isolation of the fungus using customized culture media. These technologies are time consuming, expensive, and require skilled operators.
However, new technologies such as biomarker detection in blood using immunoassay platforms are being introduced in the market that offer more efficient results. These new technologies are expected to improve diagnosis of cryptococcosis infection. This in turn is likely to drive the cryptococcosis market.
Patent expiry of key drugs and entry of generics to Hamper Global Cryptococcosis Market
The Cryptococcosis market experienced a patent cliff during the last decade. Expiration of patents affects the revenue of pharmaceutical companies. Moreover, generic version of a drug hampers the revenue of branded drug products.
This factor is expected to have a profound impact on the cryptococcosis drugs market, causing a decline in market revenue. Moreover, approved ANDAs for most of these molecules will lead to intense generic competition. Increasing number of generic drugs and patent expirations will negatively affect the market. Hence, patent expirations are likely to restrain the Cryptococcosis market.
REQUEST FOR COVID19 IMPACT ANALYSIS – https://www.transparencymarketresearch.com/sample/sample.php?flag=covid19&rep_id=14984
North America to Account for Major Share of Global Cryptococcosis Market
North America leads the global cryptococcosis market commanding more than 40% share in the global cryptococcosis market. Recent advances in cryptococcosis diagnostics with biomarker test, reimbursement for disease screening, and improved access to antifungal drugs such as flucytosine are the major drivers of the cryptococcosis market in North America. U.S. is the major market in North America. The cryptococcosis market in the U.S. is driven by rising prevalence of cryptococcus gattii in the Pacific Northwest Region of the U.S. Moreover, major factors such as HIV population, highly structured health care industry, and availability of well-defined reimbursement policies from public and private health insurance firms fuel the growth of the cryptococcosis market in the U.S.
Middle East & Africa is the second leading market due to the major contribution of Sub-Saharan countries where the burden of HIV related cryptococcosis infections are very high. Most of the drugs in the region are distributed by non-government organizations. However, the retail pharmacies segment held significant market share in Middle East & Africa.
Expanding operations in future? To get the perfect launch ask for a custom report 
Global Cryptococcosis Market: Competitive Landscape
This report profiles major players in the global cryptococcosis market based on various attributes such as company overview, financial overview, product portfolio, business strategies, and recent developments
Key players operating in the global cryptococcosis market include

Bristol-Myers Squibb Company
Janssen Biotech, Inc. (Johnson & Johnson)
Abbott Laboratories
Novartis AG
Pfizer, Inc.
Valeant Pharmaceuticals, Inc.
Glenmark Pharmaceuticals
Sigmapharm Laboratories LLC.
Global Cryptococcosis Market: Key Developments
Key players in the global cryptococcosis market have adopted strategies such as regulatory approvals, advanced product development, launch of new products, increase in investments and funds, and acquisition & collaborative agreements with other companies. These strategies of key players are likely to fuel the growth of the global cryptococcosis market. A few strategies adopted by players operating in the global cryptococcosis market are:
In June 2016, F2G Ltd. Antifungal biotech firm which is backed by Novartis and Novo-nordisk announced the raise of fund for US$ 60 Million.
In June 2016, Viamet Pharmaceuticals, Inc.  announced Fast Track Designation approval from the U.S. FDA for it's VT-1129 drug candidate for the treatment of cryptococcal meningitis
More Trending Reports by Transparency Market Research – https://www.prnewswire.com/news-releases/bronchitis-treatment-market-to-reach-us-4-7-bn-by-2026–high-prevalence-of-air-pollution-drives-growth-transparency-market-research-301003635.html