Avengers, it's time to assemble! It seems that the Infinity War movie doesn't seem to end its popularity. This the reason why the Marvel birthday party is trending until today. Maybe your kids have seen the movie and fallen in love with it, and they may feel inspired and powerful. 
If you are hosting a kid's party or birthday party for your little ones, we're here to give you Marvel party ideas for birthday activities, DIY decorations, food, and etc. So keep reading!
Captain America Birthday Party Invitation 
If your kid loves Captain America and you want to throw the perfect party for him, you may start doing an invite using free digital apps. You may decorate the invitation using bold white, blue, and red colours to satisfy your Avengers-obsessed child in your life. You can customize the details using an online template, send it to your guests, then proceed with planning the party itself. 
Captain America Piñata
Courtesy of gorzavel.com
Your mini-superheroes guests at the party would definitely enjoy taking a swing at a colourful Captain America piñata. You can then fill it up with candies, small toys, stickers, and more treats than you think guests would love. 
Black Widow Cupcake Toppers 
Of course, we can't miss out on Black Widow as one of the girls' favourite avengers. You may transform basic homemade or store-bought cupcakes into memorable treats with these Black Widow cupcake toppers, which feature Black Widow's iconic black, red, and yellow logo. Plus, it's very easy to do since you can instantly download different logos from the internet and print them off on cardstock at home. You are definitely a superhero for making a photo-worthy dessert without breaking any sweat. 
Avengers Temporary Tattoos 
You want your guests to remember the party, and you can do that by giving them amazing Avengers temporary tattoos. You may allow the kids to pick their favourite characters and apply them during the party, or put them inside their gift bags so they can enjoy it later. Either way, you can be sure that they'll love these heroic tattoos! 
Avengers Photo Booth 
Courtesy of Kara's Party Ideas 
If you want to make the memories of your kid's birthday to last forever, a photo booth is a perfect idea to do that. Think of several props that you think would be easy for guests to portray their favourite Avengers characters or moments. Let the kids enjoy posing as their favourite characters.
Avengers Water Balloon Fight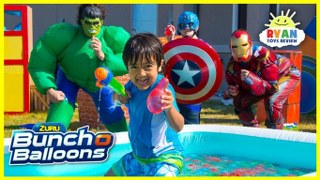 Courtesy of allvloggers.com
Want to be the best mom of the year for your kids? Bring out water balloons! Try to shop online for outdoor toy Avengers water balloons and fill them up with water. This will be a huge hit for kids of all ages. Aside from being crazy fun, it's a great quick summer cool-down activity when it gets hot. 
Thor's Hammer Throw 
This game is pretty interesting because kids will try to test their strength. You will need to use empty K-cups and set them up on a folding table against the wall of the house. For you to win, you need to knock the most cups off the table because it would be easy to knock them down as long as you could hit the general area. It would be better if you place them against the wall so you can easily contain the cups every time they were knocked over. 
Planning a kids party can be a bit difficult, if you want to avoid the hassle, you might want to look for kids party entertainment coordinators to do the job for you including everything from invites, to games, to activities, to party bags, and many more.